Who will benefit from the clay sludge that has been collected in the Punaravartan campaign ?
For the ban on Plaster of Paris to be completely effective, it is critical that we address the concerns of the artisans as we encourage them to move towards more and more ecofriendly materials. This shift is not easy, as the natural materials are fragile, moisture absorbent and labour intensive. The artisans who work with clay incur heavy losses and with diminishing labour, they are unable to sustain this, finally shifting into Plaster which is easier and more durable. 
For the past two years, eCoexist has been in discussions with artisans, encouraging them to experiment with the recycling of clay and testing the quality of the resultant mixes. 
In 2022, at the start of the Punaravartan campaign, we approached several artisans to see if they would be willing to recieve and work with  the clay sludge if we brought it back to them. 
While the artisans do reuse their own clay stocks regularly, they had a few concerns about the large scale recollection
Who is going to collect it back from the consumers? 

What will be the quality of the sludge you collect? 

What form will you give us the clay in ? Wet sludge? Dry sludge ? Powders?
 Our team started to make a database of artisans who were willing to accept the clay from us and also list down the concerns of each of them. We held meetings with the murtikar sanghatanas in Pen where there is the largest production of clay idols.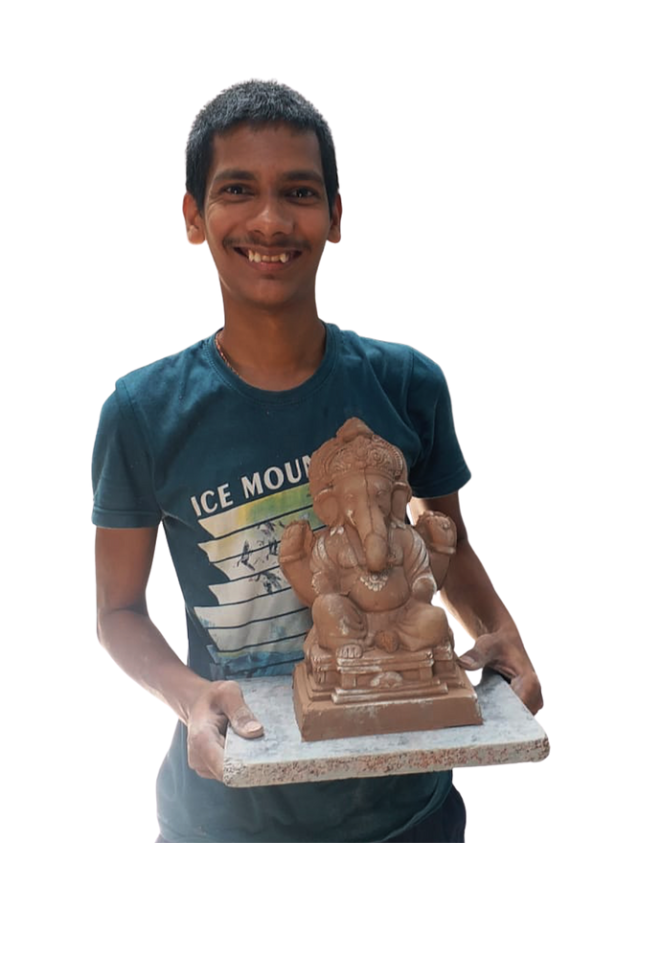 We met Omkar several years ago, when he was still in school. Exceptionally talented this young boy was helping his father make ends meet by sculpting with him. Living with his family of five in a small one room house, Omkar was the eldest son and shouldered his responsibilities with grace. Over the years, we supported his education and connected him to others like Emcure Pharmaceuticals that helped him on his journey. He completed his education, continued to sculpt and has now set up his own workshop. 
Omkar made the first set of recycled clay idols  in 2021 to test whether this was possible.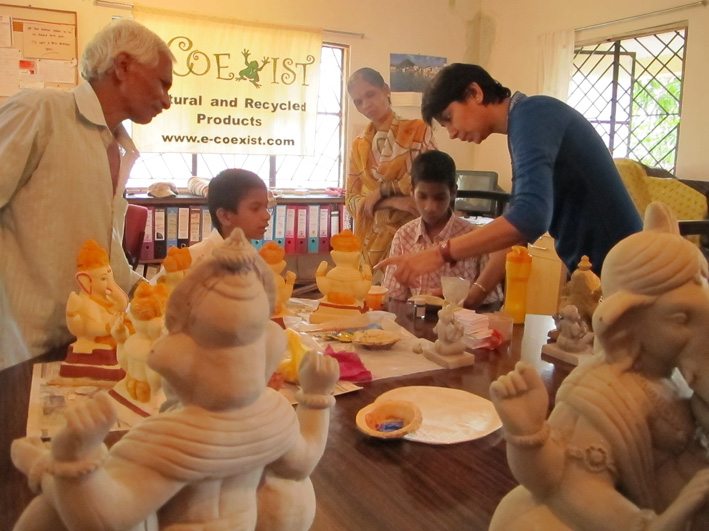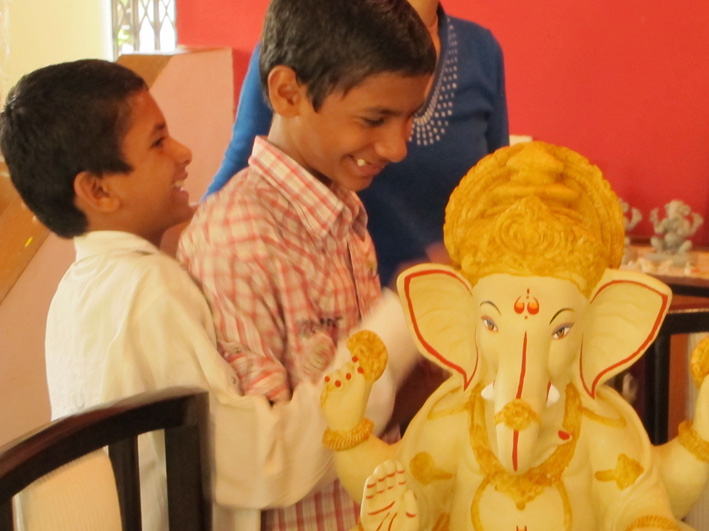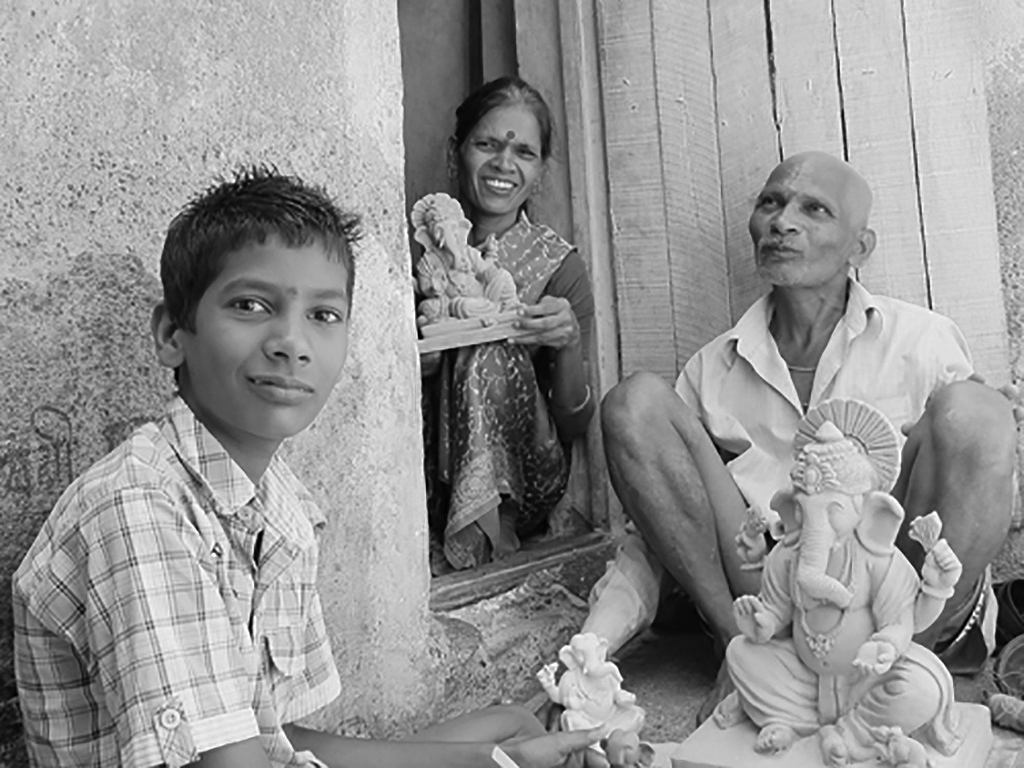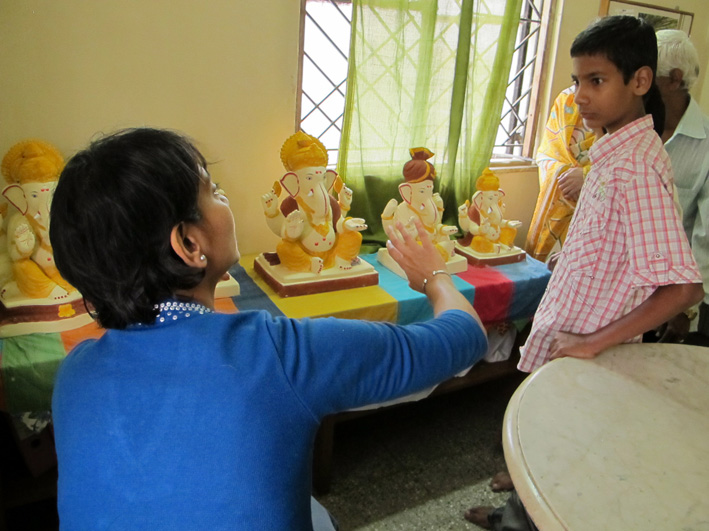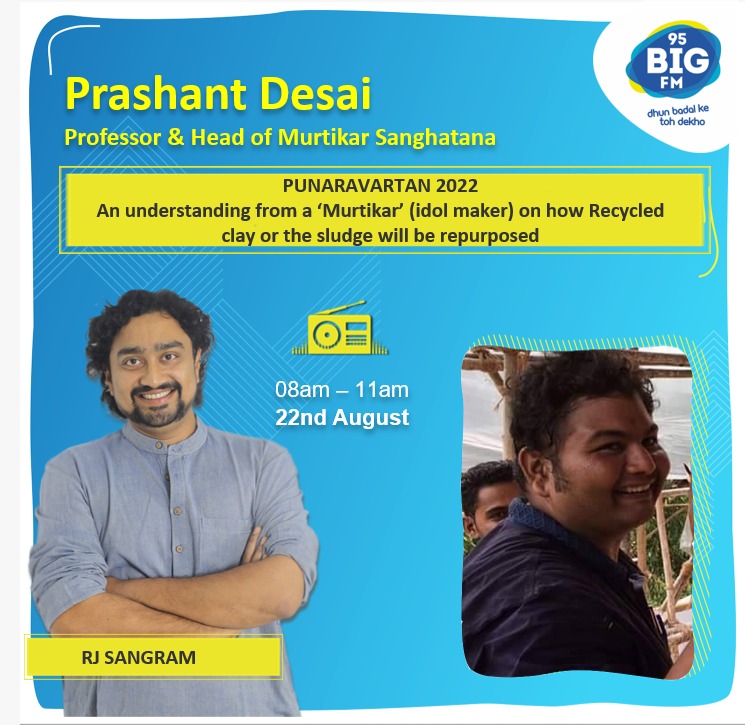 Ganesh Murtikar Sanghatana
Prashant Desai
To reach a larger network of artisans in Pune and Mumbai, we reached out to the Ganesh Murtikar Sanghatana led by Sri Prashant Desai. A professor teaching material sciences in MIT University, Prashant welcomed our initiative and agreed to accept and redistribute upto 5 tons of clay from us. 
He also agreed to work with us to experiment and innovate with the clay sludge, involving the design students at MIT.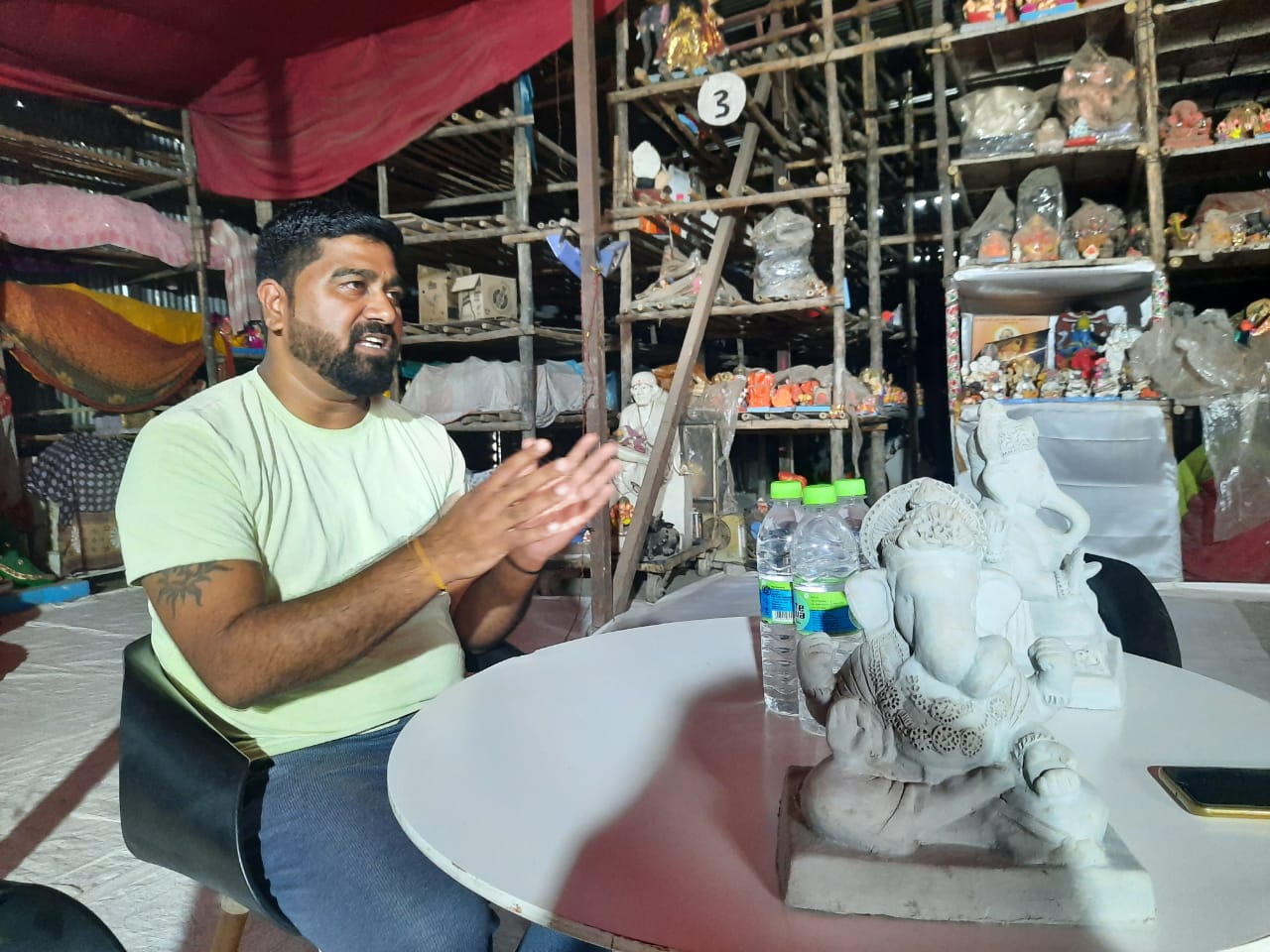 Shree Foundation
Sagar Padale
Sagar Padale is based in Mhalunge and has been collecting and reusing Ganesh idols for several years already. He is able to handle both Plaster of Paris as well as Shaadu clay and most of the collection from the ghats at PCMC were sent to Shree Foundation directly. The sales of these idols are then used by Sagar to initiate other social work. 
Sagar was introduced to Punaravartan by Jeevitnadi.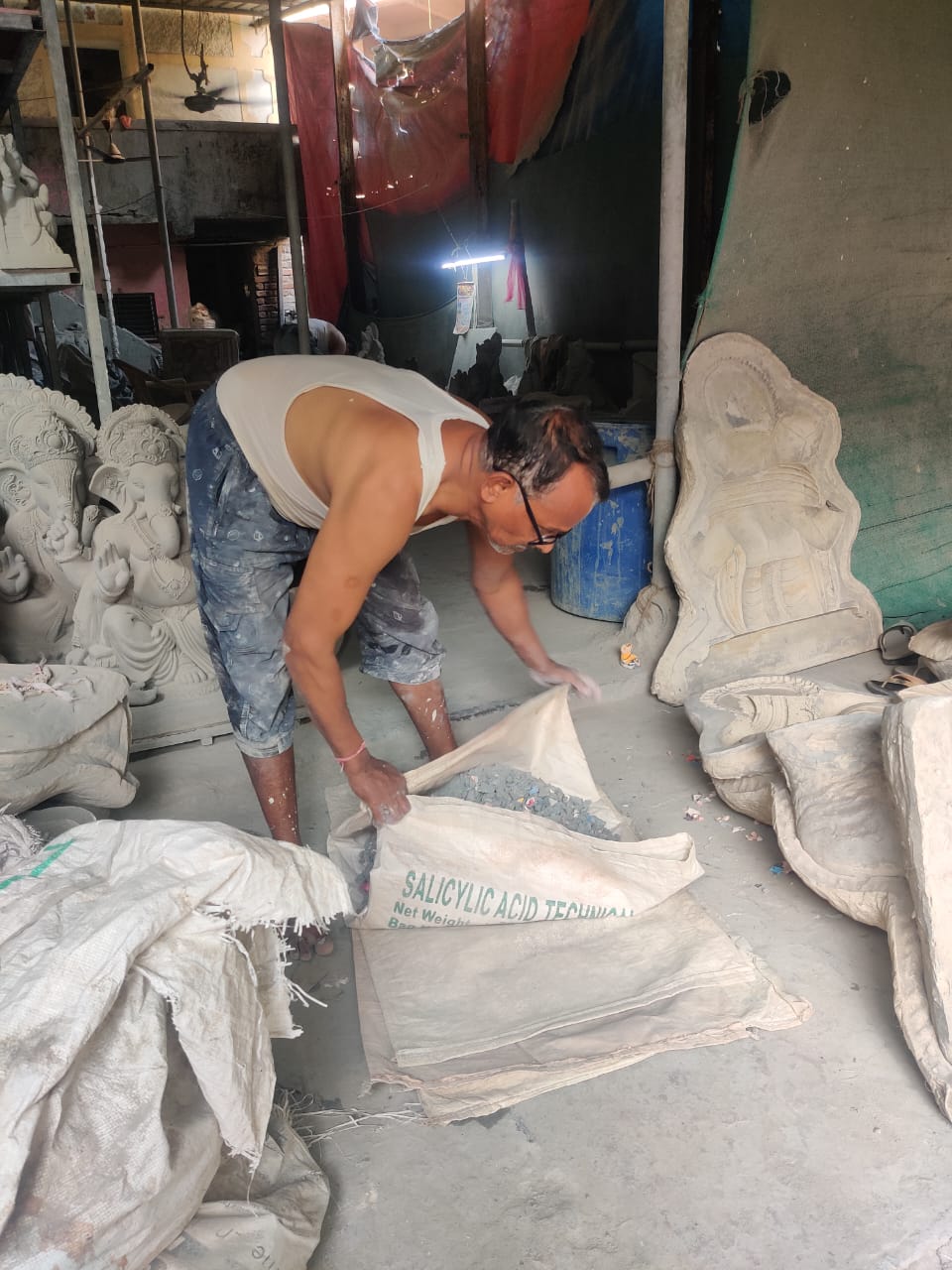 Subhash Kumbhar is an artisan based in Pen, Raigad district. The production of Ganesh idols is his main source of income and he has been focussed mainly on working with clay. Subhash recieved 3 tons of clay sludge from the Punaravartan campaign and will be producing recycled clay idols for sale in 2023. 
Artisans network
Sub Heading
| | |
| --- | --- |
| पुणे |   |
|   |   |
| Omkar Salunkhe | Keshavnagar |
| Sudden Shinde | Kasba Peth |
| Akshay | Kasba Peth |
| Chetan Badhai | Kasba Peth |
| Prakash Mohan | Hadapsar |
| Swapnil | Keshavnagar |
|  Rushikesh Shinde |  Keshavnagar |
| Niketan Jejurikar | Sanaswadi |
| PEN |   |
| Raj Patil | Pen |
| Mayuresh | Pen |
| Harshad | Pen |
| Subhash Kumbhar  | Pen |
| MUMBAI |   |
| Prashant Desai ( Ganesh murtikar sanghatana ) | Loni Kalbhor |
Over the span of the last few months the Punaravartan team approached several other artisans and started to create a database of artisans that would be willing to accept the clay to recycle it. Some of them with space constraints, indicated that they could only take the clay back if it was already dried and powdered, others accepted to take broken idols as well as clay sludge. 
During the collection process, we were also approached by other artisans and will be adding them to the list of beneficiaries. 
DISCLAIMER
All clay collected through Punaravartan is being given away free of cost to artisans and institutions to encourage reuse and conservation  of materials. There is no monetary benefit to any partner organisations.

The MIT University at Loni Kalbhor has agreed to partner with Punaravartan to engage the students in design experiments using the clay sludge. Several MIT students volunteered in the clay collection process and will be working with us to innovate on other applications of this material. 
Working on a real life project such as this will give the students the exposure to how things work on the ground and the realities of the challenges the artisans face. Presentations were made to the students prior to the collection and we were surprised to discover that some of the students already came from families of Ganesh sculptors. In this eay, the next generation of sculptors would be sensitised to the ecological impacts of the materials they use.